ANIMASI INTERAKTIF PEMBELAJARAN SHALAT MENGGUNAKAN METODE MULTIMEDIA DEVELOPMENT LIFE CYCLE PADA RA AT-TAUFIQ CIKARANG
Yulihani Yulihani (1)

Sistem Informasi STMIK Nusa Mandiri

Siti Masturoh (2*)

STMIK Nusa Mandiri

Agung Fazriansyah (3)

Teknologi Komputer Universitas Bina Sarana Informatika

Ahmad Hafidzul Kahfi (4)

Sistem Informasi STMIK Nusa Mandiri


(*) Corresponding Author

Keywords:
Interactive Animation, Five-Time Shalat Learning, Multimedia Development Life Cycle
Abstract
Abstract— Education is one of the main foundations in shaping one's personality. Learning to pray must be instilled in children from an early age. Prayer is a weapon of believers, a pillar of religion, light in the sky and on earth. Prayers can prevent vile and morbid deeds. Prayers can be judged if they fulfill all the conditions and pillars. The obligation to perform prayer as well as by carrying out other obligations according to the Islamic Shari'ah. This research was conducted using the Adobe Flash application program, using the method of developing Multimedia Development Life Cycle (MDLC) software, the data collection method used in this study were Observation, Interview, and Library methods. From the results of this study, obtained an Interactive Animation of Five Times Prayer Learning using Adobe Flash CS6 as a learning vehicle for students and facilitating RA Ataufiq students at  Cikarang in obtaining material information, especially for prayer learning.
Downloads
Download data is not yet available.
References
Adhayani, A., & Tresnawati, D. (2015). PENGEMBANGAN SISTEM MULTIMEDIA PEMBELAJARAN IQRO' MENGGUNAKAN METODE LUTHER. Jurnal Algoritma, 12(1), 1–7.
Ariyati, S., & Misriati, T. (2016). PERANCANGAN ANIMASI INTERAKTIF PEMBELAJARAN ASMAUL HUSNA. Jurnal Teknik Komputer, II(1), 116–121.
Destiana, H., & Rosid, A. (2015). PEMBELAJARAN BACAAN SHOLAT LIMA WAKTU BERBASIS ANIMASI INTERAKTIF. Paradigma, XVII(2), 59–68.
Hadibin, M. M., Purnama, B. E., & Kristianto, G. (2012). PEMBANGUNAN MEDIA PEMBELAJARAN TEKNIK KOMPUTER JARINGAN KELAS X SEMSTER GANJIL PADA SEKOLAH MENENGAH KEJURUAN TARUNA BANGSA PATI BERBASIS MULTIMEDIA INTERAKTIF. IJCSS - Indonesian Jurnal on Computer Science - Speed, 9330, 1–6.
Hakim, B. R., & Haryudo, S. I. (2014). PENGEMBANGAN MEDIA PEMBELAJARAN INTERAKTIF ANIMASI FLASH PADA STANDAR KOMPETENSI MEMASANG INSTALASI PENERANGAN LISTRIK BANGUNAN SEDERHANA DI SMK WALISONGO 2 GEMPOL. Jurnal Pendidikan Teknik Elektro, 3(1), 15–21.
Hardyana, S. E., & Herlawati. (2016). ANIMASI INTERAKTIF PENGENALAN HEWAN KHAS PULAU INDONESIA BERBASIS ANDROID PADA TK KUPU-KUPU MUNGIL BEKASI. Jurnal Teknik Komputer, 2(1), 9–21.
Kinasih, D., & Prabowo, N. A. (2013). Pembuatan Media Pembelajaran Interaktif Sholat Fardhu Lima Waktu. Journal Speed – Sentra Penelitian Engineering Dan Edukasi, 5(4), 52–58.
Nurajizah, S. (2016). IMPLEMENTASI MULTIMEDIA DEVELOPMENT LIFE CYCLE PADA APLIKASI PENGENALAN LAGU ANAK ANAK BERBASIS MULTIMEDIA. Jurnal PROSISKO, 3(2), 14–19.
Putra, I. E. (2013). TEKNOLOGI MEDIA PEMBELAJARAN SEJARAH MELALUI PEMANFAATAN MULTIMEDIA ANIMASI INTERAKTIF. Jurnal TEKNOIF, 1(2), 20–25.
Rosmaidah, I., & Destiana, H. (2017). Perancangan Animasi Interaktif Belajar Mengenal Huruf Hijaiyah Pada TKQ Al-Khoiriyah. Jurnal Teknik Komputer, III(1), 100–105.
Tresnawati, D., & Fadzilatunnisa, I. (2015). PENGEMBANGAN APLIKASI TATA CARA WUDHU DAN SHALAT UNTUK ANAK MENGGUNAKAN SISTEM MULTIMEDIA. Jurnal Algoritma, 12(1), 1–7.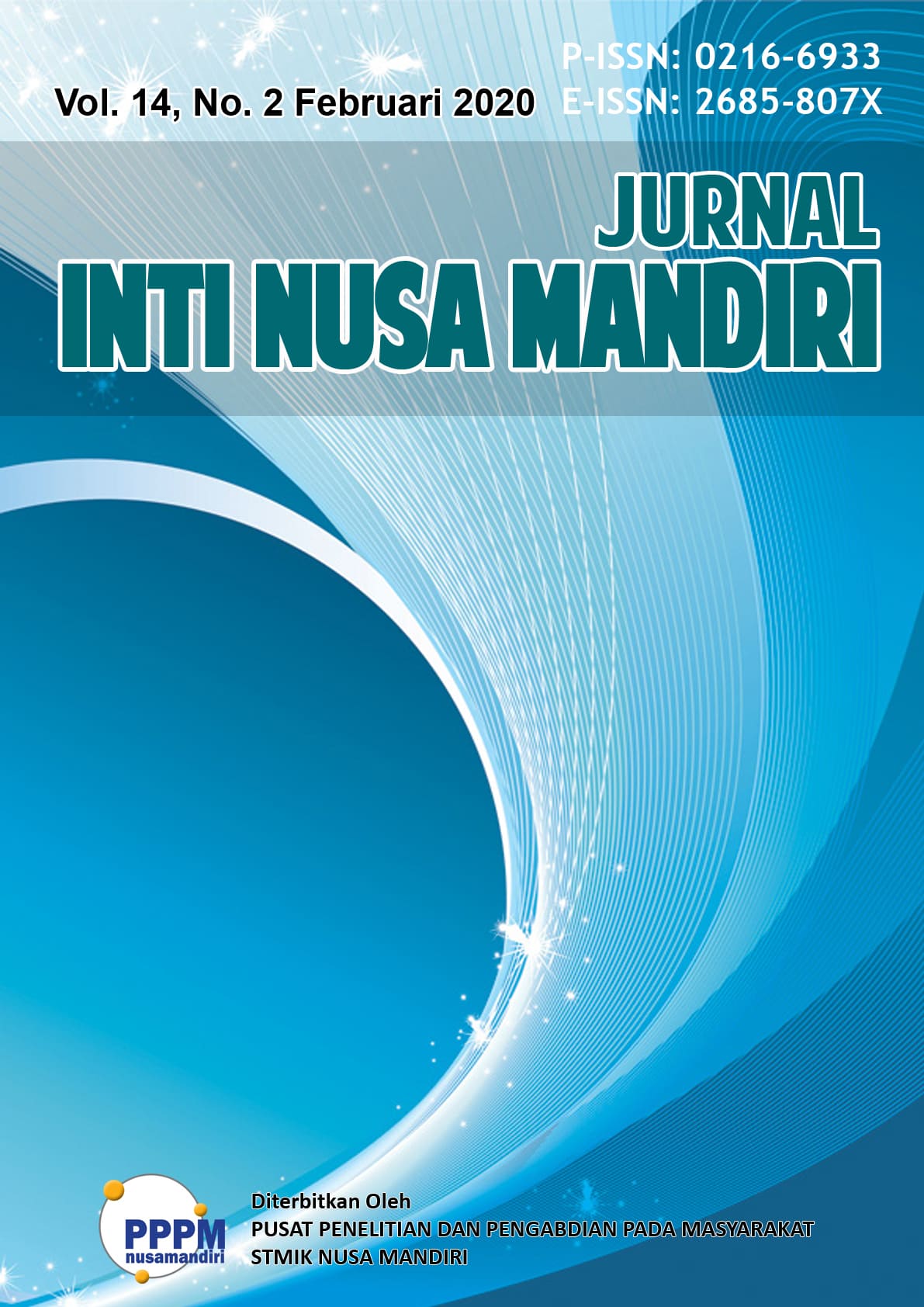 How to Cite
Yulihani, Y., Masturoh, S., Fazriansyah, A., & Kahfi, A. (2020). ANIMASI INTERAKTIF PEMBELAJARAN SHALAT MENGGUNAKAN METODE MULTIMEDIA DEVELOPMENT LIFE CYCLE PADA RA AT-TAUFIQ CIKARANG. INTI Nusa Mandiri, 14(2), 219-226. https://doi.org/10.33480/inti.v14i2.1106
Article Metrics

Abstract viewed = 356 times

PDF downloaded = 313 times
Penulis yang menerbitkan jurnal ini menyetujui ketentuan berikut:
1. Penulis memegang hak cipta dan memberikan hak jurnal mengenai publikasi pertama dengan karya yang dilisensikan secara bersamaan di bawah Creative Commons Attribution 4.0 International License. yang memungkinkan orang lain untuk berbagi karya dengan pengakuan atas karya penulis dan publikasi awal pada jurnal.
2. Penulis dapat memasukkan pengaturan kontrak tambahan yang terpisah untuk distribusi non-eksklusif dari versi jurnal yang diterbitkan (misalnya, mengirimkannya ke repositori institusional atau menerbitkannya dalam sebuah buku), dengan pengakuan atas publikasi awalnya pada Jurnal.
3. Penulis diizinkan dan didorong untuk memposting karya mereka secara online (misalnya, dalam penyimpanan institusional atau di situs web mereka) sebelum dan selama proses pengiriman, karena hal itu dapat menghasilkan pertukaran yang produktif, serta kutipan dari karya yang diterbitkan sebelumnya.