MULTIMEDIA LEARNING FOR WUDHU AND SHOLAT PROCEDURES ANDROID BASED AT TK PERTIWI 01 SERANG
Multimedia Pembelajaran Tata Cara Wudhu Dan Shalat Berbasis Android Pada TK Pertiwi 01 Serang
Widiastuti Widiastuti (1*)

Computer science, STMIK Nusa Mandiri, Jakarta, Indonesia

Siti Masturoh (2)

Information System, STMIK Nusa Mandiri, Jakarta, Indonesia

Ahmad Hafidzul Kahfi (3)

Information System, STMIK Nusa Mandiri, Jakarta, Indonesia

M Rangga Ramadhan Saelan (4)

Information System, STMIK Nusa Mandiri, Jakarta, Indonesia

Ridan Nurfalah (5)

Information System, STMIK Nusa Mandiri, Jakarta, Indonesia

Muhammad Hilman Fakhriza (6)

Informatics Engineering, STMIK Nusa Mandiri, Jakarta, Indonesia


(*) Corresponding Author

Keywords:
Multimedia Learning, Wudhu, Sholat, Moslem Prayer
Abstract
Wudhu is one way to purify oneself from uncleanness and suffering. Performing ablution perfectly in accordance with Islamic Shari'a is the key to receiving prayer. The introduction of religious activities such as ablution and prayer from an early age is considered necessary. Learning ablution and prayer is usually done by parents repeatedly and by example. In one study, 8 out of 10 children aged 5-6 years did not recognize ablution when they were praying. The method of developing multimedia systems by Luther-Sutopo is one of the system development methods used by multimedia application developers. Therefore it will be built an Android operating learning media that uses Adobe Flash technology to display an animated image, motion, and audio in a 2-dimensional form. This learning media will display 2-dimensional objects of ablution movements, namely intentions, washing both feet and prayer after ablution, and prayer movements from beginning to end and added a few daily prayers. The results of this study are in the form of learning applications for ablution and five-time prayer based on Android. In this application using elements of text, images, animations, and sounds to attract and make it easier for children to remember lessons on how to perform ablution and prayer and various kinds of daily prayers.
References
Binanto, I. (2010). Multimedia Digital - Dasar Teori dan Pengembangannya. Penerbit Andi.
Chusna, P. A. (2017). Pengaruh Media Gadget Pada Perkembangan Karakter Anak. Dinamika Penelitian: Media Komunikasi Penelitian Sosial Keagamaan, 17(2), 315–330. http://103.106.116.16/index.php/dinamika/article/view/842
Masganti, S. (2015). Psikologi perkembangan anak usia dini. Perdana Publshing.
Nurajizah, S. (2016). Multimedia Development Life Cycle Pada Aplikasi Pengenalan Lagu Anak Anak Berbasis Multimedia. PROSISKO: Jurnal Pengembangan Riset Dan Observasi Sistem Komputer, 3(2), 14–19. http://e-jurnal.lppmunsera.org/index.php/PROSISKO/article/view/18
Pratiwi, I. M., & Ariawan, V. A. N. (2017). Analisis kesulitan siswa dalam membaca permulaan di kelas satu sekolah dasar. Sekolah Dasar:Kajian Teori Dan Praktik Pendidikan, 26(1), 69–76. http://journal2.um.ac.id/index.php/sd/article/view/1332
Rahman, R. A., & Tresnawati, D. (2016). Pengembangan Game Edukasi Pengenalan Nama Hewan Dan Habitatnya Dalam 3 Bahasa Sebagai Media Pembelajaran Berbasis Multimedia. Jurnal Algoritma, 13(1), 184–190. http://www.jurnal.sttgarut.ac.id/index.php/algoritma/article/view/323
Sekretaris Negara Republik Indonesia. (2003). UNDANG-UNDANG REPUBLIK INDONESIA NOMOR 20 TAHUN 2003 TENTANG SISTEM PENDIDIKAN NASIONAL. http://kelembagaan.ristekdikti.go.id/wp-content/uploads/2016/08/UU_no_20_th_2003.pdf
Septian, H., Hidayat, E. W., & Rahmatulloh, A. (2017). Aplikasi Pengenalan Bahasa Arab dan Inggris untuk Anak-Anak Berbasis Android. 2(2), 71–78. https://doi.org/10.15575/join.v2i2.100
Suseno, D. D. (2010). Hubungan Antara Pola Asuh Orang Tua Dengan Kemandirian Anak Usia Prasekolah Di TK Aisyiyah Mendungan Sukoharjo [Universitas Muhammadiyah Surakarta.]. In Universitas Muhammadiyah Surakarta. http://eprints.ums.ac.id/id/eprint/10439
Widiastuti, W., Masturoh, S., Kahfi, A. H., Saelan, M. R. R., Nurfalah, R., & Fakhriza, M. H. (2020). Final Report Independent Research: Learning Multimedia Procedures for Wudhu and Sholat Android Based on TK Pertiwi 01 Serang.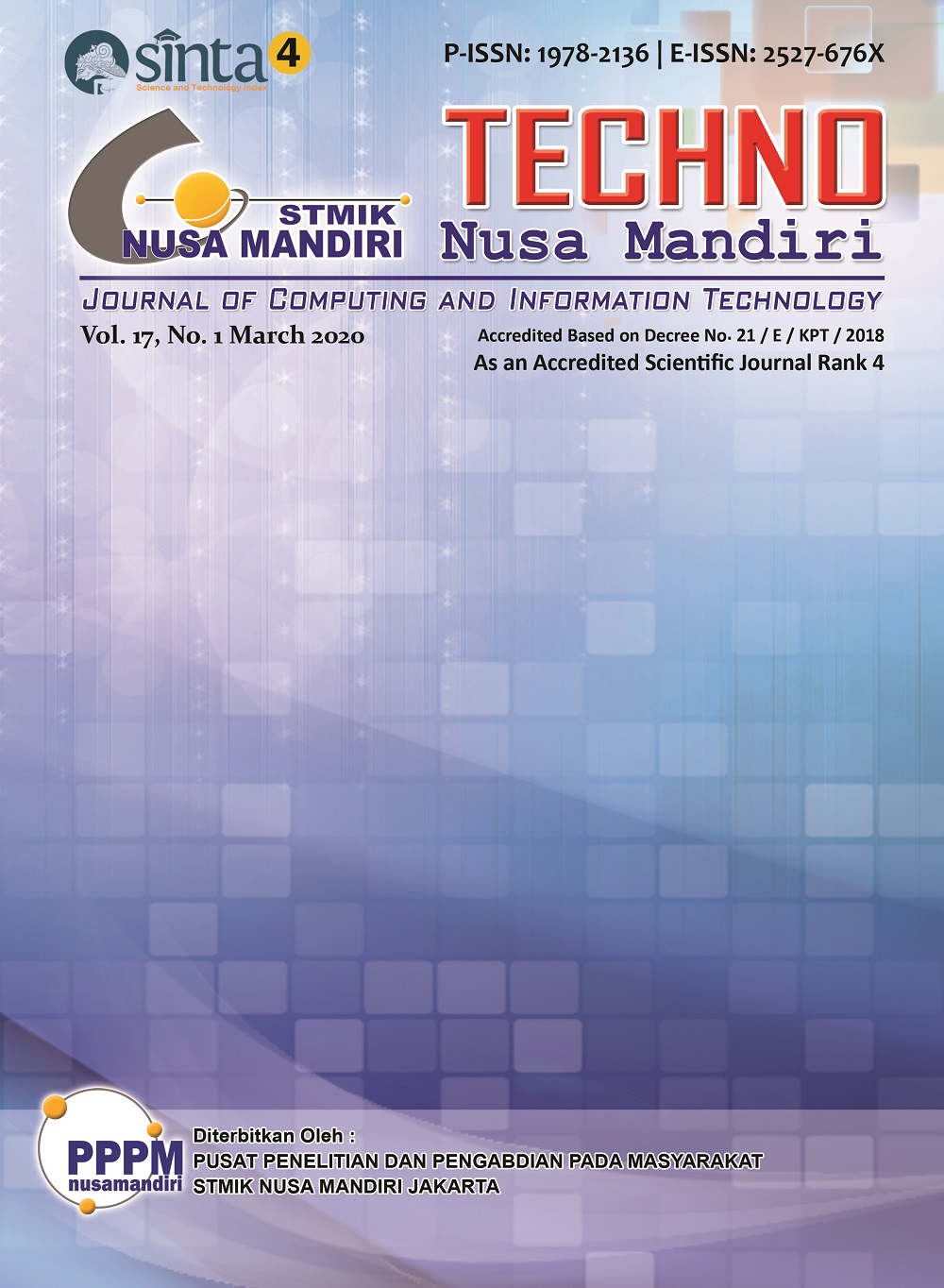 How to Cite
Widiastuti, W., Masturoh, S., Kahfi, A., Saelan, M. R., Nurfalah, R., & Fakhriza, M. (2020). MULTIMEDIA LEARNING FOR WUDHU AND SHOLAT PROCEDURES ANDROID BASED AT TK PERTIWI 01 SERANG. Techno Nusa Mandiri: Journal of Computing and Information Technology, 17(1), 63-70. https://doi.org/10.33480/techno.v17i1.1290
Article Metrics

Abstract viewed = 380 times

PDF downloaded = 441 times
The copyright of any article in the TECHNO Nusa Mandiri Journal is fully held by the author under the Creative Commons CC BY-NC license.
The copyright in each article belongs to the author.
Authors retain all their rights to published works, not limited to the rights set out on this page.
The author acknowledges that Techno Nusa Mandiri: Journal of Computing and Information Technology (TECHNO Nusa Mandiri) is the first to publish with a Creative Commons Attribution 4.0 International license (CC BY-NC).
Authors can enter articles separately, manage non-exclusive distribution, from manuscripts that have been published in this journal into another version (for example: sent to author affiliation respository, publication into books, etc.), by acknowledging that the manuscript was published for the first time in Techno Nusa Mandiri: Journal of Computing and Information Technology (TECHNO Nusa Mandiri);
The author guarantees that the original article, written by the stated author, has never been published before, does not contain any statements that violate the law, does not violate the rights of others, is subject to the copyright which is exclusively held by the author.
If an article was prepared jointly by more than one author, each author submitting the manuscript warrants that he has been authorized by all co-authors to agree to copyright and license notices (agreements) on their behalf, and agrees to notify the co-authors of the terms of this policy. Techno Nusa Mandiri: Journal of Computing and Information Technology (TECHNO Nusa Mandiri) will not be held responsible for anything that may have occurred due to the author's internal disputes.