ADDITIVE RATIO ASSESSMENT ALGORITHM ON DECISION SUPPORT SYSTEM FOR SELECTING THE BEST SMA AND SMK
Budy Satria (1*)

AMIK Mitra Gama

Muhammad Iqbal (2)

AMIK Mitra Gama

Teuku Radillah (3)

AMIK Mitra Gama


(*) Corresponding Author

Keywords:
decision support system, senior high school, additive ratio asssesment, Education Office Technical Implementation Unit
Abstract
Determination of the best SMA and SMK through the Education Office Technical Implementation Unit (UPTD) of Pinggir Subdistrict, Bengkalis Regency, needs to be done to provide information to parents, especially students who want to continue their schooling to SMA and SMK level in order to know the ranking of destination schools and be able to make choices. The assessment is still done manually and has not used the right ranking method to determine the best school at the SMA and SMK level, especially in Pinggir District, Bengkalis Regency so that the assessment system is still not on target so that there is difficulty in the process of selecting the best SMA and SMK in the Pinggir Education UPTD. Bengkalis Regency to be right on target. The purpose of this study is to provide convenience in the process of selecting the best SMA and SMK with a decision support system using 7 criteria, namely school facilities, accreditation status, graduates, student achievement, location, human resources and extracurricular activities. The method used in this research is to use the Additive Ratio Assessment (ARAS). There are 8 schools that serve as alternative data, namely SMAN 1, SMAN 2, SMAN 3, SMAN 4, SMAN 5, SMAN 6, SMKN 1 and SMKN 2. The results obtained are that there are 4 recommended schools, namely SMKN 2 = 0.14286 , SMAN 2 = 0.11429, SMAN 3 = 0.1149 and SMAN 6 = 0.11429. So that the results of this research can help in determining the best school.
Downloads
Download data is not yet available.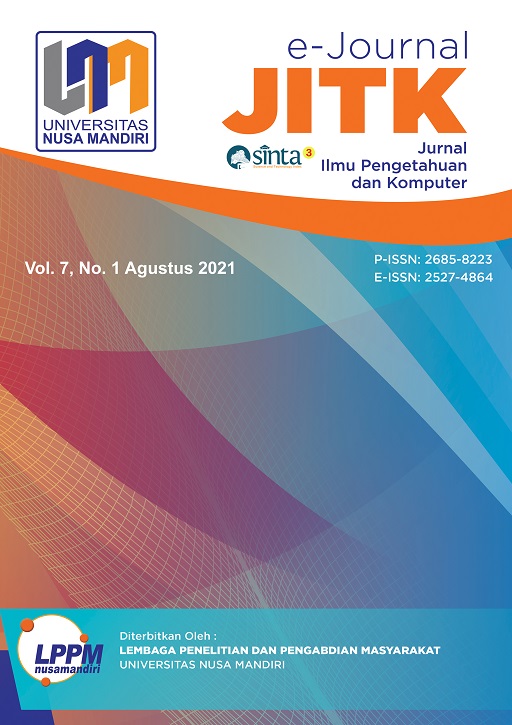 How to Cite
[1]
B. Satria, M. Iqbal, and T. Radillah, "ADDITIVE RATIO ASSESSMENT ALGORITHM ON DECISION SUPPORT SYSTEM FOR SELECTING THE BEST SMA AND SMK", jitk, vol. 7, no. 1, pp. 29-36, Aug. 2021.
Article Metrics

Abstract viewed = 143 times

PDF downloaded = 94 times
Copyright (c) 2021 Budy Satria, Muhammad Iqbal
This work is licensed under a Creative Commons Attribution-NonCommercial 4.0 International License.