PROVISION OF MICRO CREDIT AT BANK MANDIRI BOGOR WITH THE FUZZY TSUKAMOTO METHOD
Susliansyah Susliansyah (1*)

Universitas Bina Sarana Informatika

Nisan Nisan (2)

Sekolah Tinggi Manajemen Informatika dan Komputer Nusa Mandiri

Heny Sumarno (3)

Universitas Bina Sarana Informatika

Hendro Priyono (4)

Universitas Bina Sarana Informatika

Linda Maulida (5)

Universitas Bina Sarana Informatika


(*) Corresponding Author

Keywords:
Lending of Credit, Micro Credit, Fuzzy Tsukamoto
Abstract
It is an advantage for the bank, in this case, the Bank Mandiri Dramaga1 Bogor Unit, because of the increasing credit activity in banks, it is necessary to have an assessment in credit as consideration for prospective customers before the bank decides to accept or reject a prospective customer request. So it is necessary to develop a method that can assist and facilitate the bank in making decisions quickly and accurately. The basis for decision making is based on the criteria for determining who is eligible or not to receive a loan. To assist in determining whether someone is eligible or not to receive a loan, a decision support system is needed using fuzzy logic and applying the Tsukamoto method. The Lending Decision Support System was created to assist and facilitate the bank in making decisions to provide alternatives if a prospective customer applies for credit is accepted or not.
References
Bayyinah, A., & Usino, W. (2019). Analyzing Decision Support System for Determining Eligibility of Home Ownership Loan Using Fuzzy Mamdani Logical Method and Technology Acceptance Model in Banking. Data Science: Journal of Computing and Applied Informatics, 3(1), 58–76. https://doi.org/10.32734/jocai.v3.i1-619
Frieyadie, F., & Setiyawan, R. (2020). IMPLEMENTATION OF THE SAW METHOD AS A DECISION SUPPORT FOR GIVING FEASIBILITY OF KUR ON BANK MANDIRI DRAMAGA BOGOR. Jurnal Pilar Nusa Mandiri, 16(1), 103–110. https://doi.org/10.33480/pilar.v16i1.1302
Herlina, N. (2018). Antisipasi Bank Untuk Menghindari Kredit Macet Yang Ditimbulkan Oleh Kerugian Debitur Akibat Pencemaran Lingkungan. Jurnal Ilmiah Galuh Justisi, 6(2), 210–226. https://doi.org/10.25157/jigj.v6i2.1715
Kasmir. (2016). DASAR-DASAR PERBANKAN. Depok.
Kaswidjanti, W., Ariwibowo, A. S., & Wicaksono, C. B. (2014). Implementasi Fuzzy Inference System Metode Tsukamoto Pada Pengambilan Keputusan Pemberian Kredit Pemilikan Rumah. Telematika, 10(2), 137–146. https://doi.org/10.31315/telematika.v10i2.281
Kurniasih, S., & Ginting, L. S. B. (2020). Sistem Pendukung Keputusan Untuk Kelayakan Pemberian Kredit Dengan Metode Fuzzy Tsukamoto (Studi Kasus Koperasi Kemuning Persada Cabang Bandung). Jurnal Nuansa Informatika, 14(1), 38–45. https://doi.org/10.25134/nuansa.v14i1.2417
Lailiyah, A. (2014). Urgensi Analisa 5C Pada Pemberian Kredit Perbankan Untuk Meminimalisir Resiko. Yuridika, 29(2), 217–232. https://doi.org/10.20473/ydk.v29i2.368
Murti, T., Abdillah, L. A., & Sobri, M. (2015). Sistem penunjang keputusan kelayakan pemberian pinjaman dengna metode fuzzy tsukamoto (pp. 252–256). Retrieved from http://arxiv.org/abs/1506.00091
Pato, S. (2013). ANALISIS PEMBERIAN KREDIT MIKRO PADA BANK SYARIAH MANDIRI CABANG MANADO. Jurnal EMBA, 4(4), 875–885. https://doi.org/10.1017/CBO9781107415324.004
Salim, F. A. (2015). Analisis Penerapan Sitem Informasi Akuntansi Dalam Mendukung Pengendalian Internal Pemberian Kredit Pada Pt. Bank Bukopin Manado. Jurnal Riset Ekonomi, Manajemen, Bisnis Dan Akuntansi, 3(1), 1034–1043. https://doi.org/10.35794/emba.v3i1.7808
Sari, R. D. I., & Sindunata, Y. (2014). PENERAPAN DATA MINING UNTUK ANALISA POLA PERILAKU NASABAH DALAM PENGKREDITAN MENGGUNAKAN METODE C.45 STUDI KASUS PADA KSU INSAN KAMIL DEMAK. Jurnal Ilmiah Teknologi Informasi Asia, 8(2), 10–16.
Sofyan, D. K., Sayuti, M., & Julianda. (2018). Metode Fuzzy Inference System Tsukamoto (Pertama). Yogyakarta: Teknosain.
Sulistiani, E., & Noris, S. (2016). Penerapan fis metode tsukamoto untuk menentukan kelayakan pemberian kredit. Jurnal Informatika Universitas Pamulang, 1(1), 22–27.
Susliansyah, Nisan, Sumarno, H., Priyono, H., & Maulida, L. (2020). Pemberian Kredit Mikro Pada Bank Mandiri Bogor Dengan Metode Fuzzy Tsukamoto.
Tanjung, N. S., Mesran, Tampubolon, K., Suginam, & Sianturi, M. (2018). Sistem Pendukung Keputusan Kelayakan Pemberian Kredit Modal Usaha Menerapkan Metode Fuzy Tsukamoto (Studi Kasus : Pt. Bpr Bina Barumun). KOMIK (Konferensi Nasional Teknologi Informasi Dan Komputer), 2(1), 376–381. https://doi.org/10.30865/komik.v2i1.962
Yasdomi, K. (2015). Sistem Pendukung Keputusan Pemberian Kredit Modal Usaha Menggunakan Metode Weighted Product ( Studi Kasus Pada Bank Danamon Simpan Pinjam Ujung Batu ). Riau Journal Of Computer Science, 1(1), 92–105.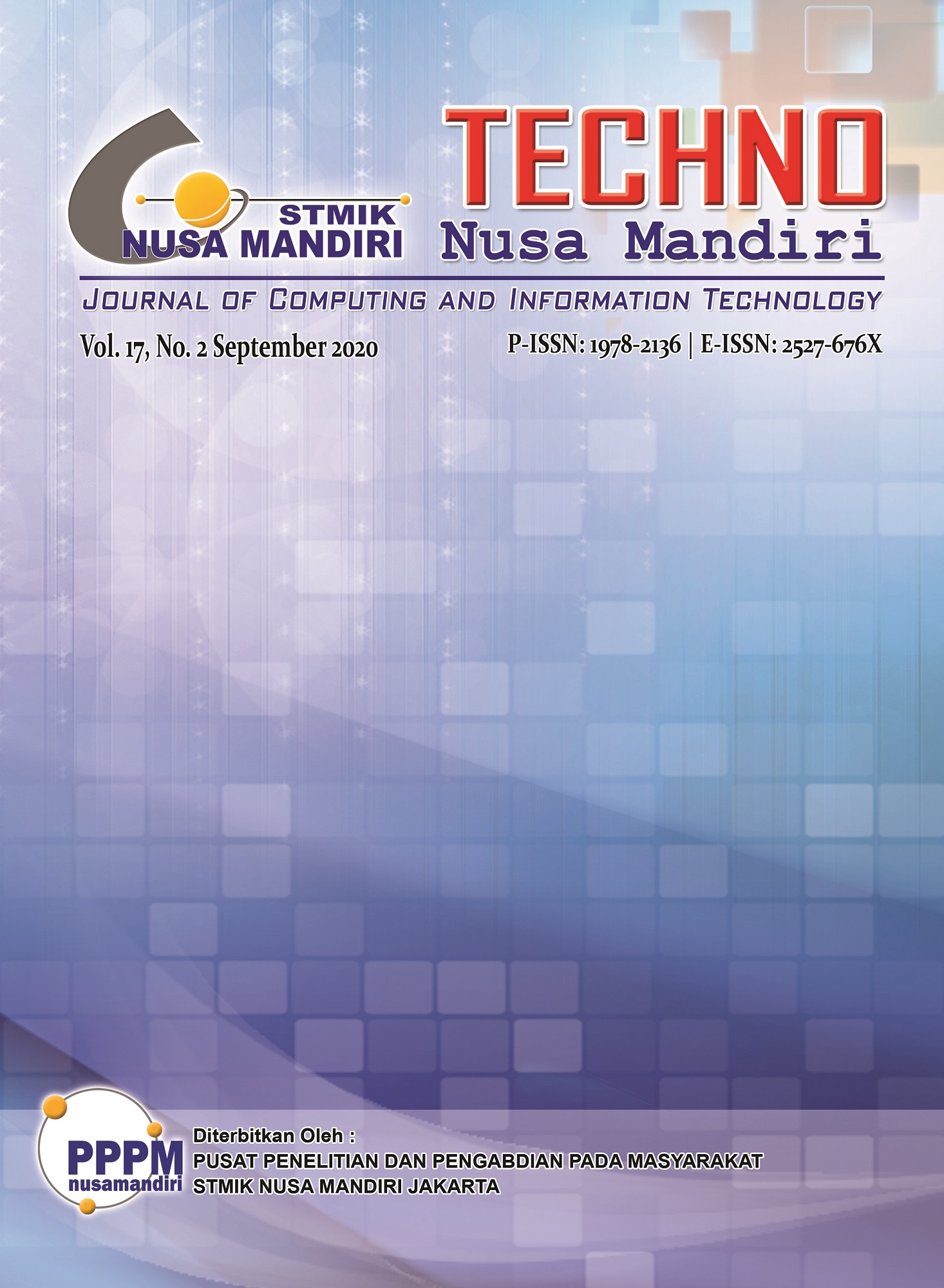 How to Cite
Susliansyah, S., Nisan, N., Sumarno, H., Priyono, H., & Maulida, L. (2020). PROVISION OF MICRO CREDIT AT BANK MANDIRI BOGOR WITH THE FUZZY TSUKAMOTO METHOD. Jurnal Techno Nusa Mandiri, 17(2), 101-108. https://doi.org/10.33480/techno.v17i2.1529
Article Metrics

Abstract viewed = 55 times

PDF downloaded = 42 times